Skip navigation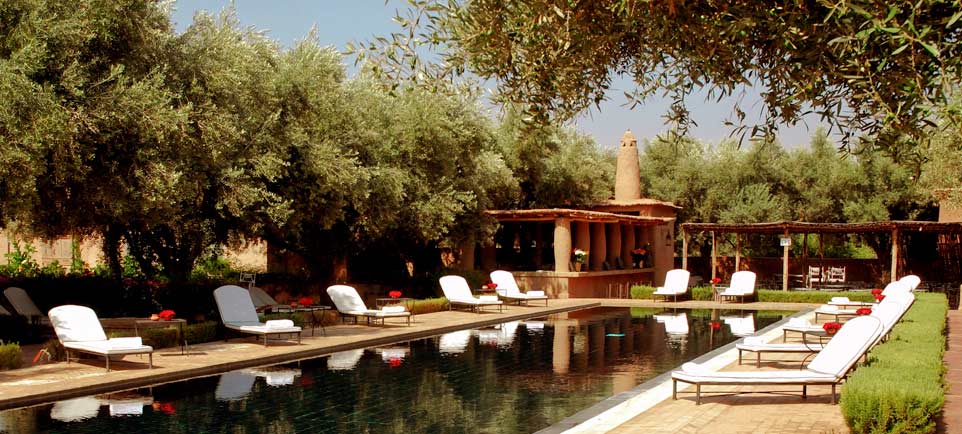 Marrakesh acts as a real oasis in the Moroccan South's settings. Moreover, the King were not hesitate to reforest and decorate with flowers the city to strengthen this aspect of the South pearl. However, the dry and warm climate, brings about a strong heat for the summer period from June till September. If the architecture of the city allows home to keep their coolness, travelers look, for their part, for water sources. Most of the medina's guesthouses are well equipped with a splash pool, but their sizes are insufficient to be able to swim. We have thus referenced for you various pleasant places of Marrakesh having swimming pools, accessible to travelers.
Caravan Serai
Evoking the ancient stopping places of the travelling merchants, the CaravanSerai is symbolic of the other face of Morocco. Conceived as a 'Dar' or traditional Arab dwelling, the interior courtyards and secret corners are inspired by traditional Berber villages. The big central swimming pool invites you to a coolness bathing.
Beldi Country Club
Beldi Country Club welcomes you in the middle of several hectares of garden as a douar with its alleys in the shade of trees. Beldi suggests you having lunch or dinner in one of its two restaurants, and relaxing or swimming in a swimming pool in the middle of olive trees.
Bled de Gre
In front of the Atlas, in a 2 hectare natural park, Bled de Grenadine offers a large swimming-pool of 28X8 meters. 180 Moroccan dirhams for a "lunch pool" (several starters, grilled meat, dessert. Beverages are not included).
Oasiria
Oasiria it is 7000 m3 of water distributed in 5 big pools, waving pool, playgrounds, toboggans, water courses and other activities on 10 hectares. Big areas become the ideal place to escape then for a day. Welcome to Oasiria !
Sofitel Marrakech
At few steps from the medina's hectic life, admire High Atlas' mountains and recharge your batteries. For your greatest wellbeing, let yourself go into the exotic charms of the sumptuous oasis : Marrakesh, the South Pearl.