Skip navigation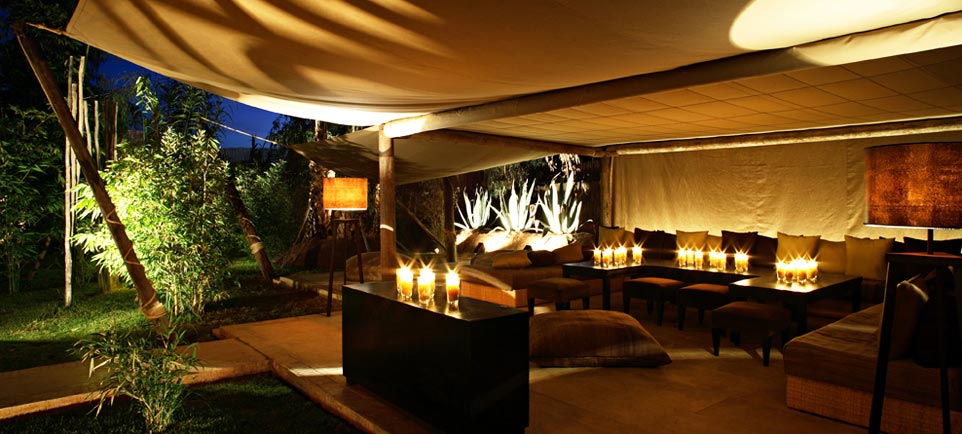 After a day striding along the medina's alleys and its souks, it is very pleasant to be able to settle down in a cool place in one of the numerous lounge bars of Marrakesh. As it is forbidden to consume some alcohol near mosques, lounge bars are generally outside of ramparts. Whether it is in Hivernage district or in Gueliz city center, numerous lounge bars succeed one another. Very fashionable during the last years, every place knew how to create its own identity (musical atmosphere, spiffy decoration). As Marrakchis waits for " the freshness " to invade clubs, it is the perfect place to start well its " Marrakesh by night ". We selected for you the most pleasant lounge bars of Marrakesh.
Grand Café de la Poste
Ideally located in the heart of the Gueliz district," The grand café de la poste" takes up with the authentic atmosphere of Marrakesh places. The decoration is in total harmony with Moroccan culture: it offers a Moresque style and a "pub" aspect directly taken from the past century.
Bo Zin
Near Marrakech, The Bo-Zin is a fashionably and a popular place.Big warm spaces are integrated into a "zen" decoration set.A big porch dominates the exotic garden where luxuriant ponds and summer lounges have been built for well-being.The menu offers a journey around the globe with multiple flavours.A place where people devote to the "fooding" without complexes, an inescapable place in Marrakech today.
Kechmara
Kechmara is a café restaurant with a contemporary design opened since 2004 in Guéliz centre. From Wednesday to Saturday, come and discover Jazz live sessions or Dj sets, indoor or on the rooftop terrace. The rooftop terrace, rare in the new town, is the perfect place to have a drink. Kechmara offers classic cocktails as well as a range a Moroccan and French wines.
Sky Bar - Renaissance Hotel
Sky Bar proposes you of delicious ice-creams and a wide selection of cocktails and wines, dominating all the city of Marrakesh under the starry sky of Morocco. The bar is every evening opened for your comfort and pleasure, from 7:00 pm till 1:00 am.
Kosybar
Kosybar is a magnificient riad in the heart of Marrakesh medina, in the secular district of Mellah. Terrace refreshed by an atomizer with view on the medina, from where we can contemplate storks's nests perched on Palais El Badi's ramparts.
47 place des Ferblantiers - Marrakech Mellah
+212 (0) 524 38 03 24



Table du Marché
In the heart of Hivernage residential district, Christophe Leroy invites you to its very famous Table du Marché in Marrakesh. Ideal place to have a drink and relax by the end of the afternoon.
Les Jardins de la Koutoubia
Come and taste Les Jardins de la Koutoubia's sweet life. By the end of the afternoon till midnight, the barman chief offers you tasty cocktails.
Cafe Clock
Great food and great music. The place where the modern world meets the old world. You can have the best almond milkshake from Morocco. It's a great place where you can have cooking lesson, great shows, storytellers and many more surprises. If you are in Marrakech , you have to go there and try the camel burger and the almond milkshake(a magic taste).